Dalat City is located on Lang Biang highlands, part of the central Highlands region of Vietnam. Due to its special historical architecture, unique climate features and wide range of beautiful spots, Mint covering valleys all over the year, this is because it is also called "The City of External and Unique Season" Beside these names it is also called The City of Love, The City of Poetry and the Green City.
It is also called "Little Paris" ("Le Petit Paris") in French due to its French architecture villas and Eiffel Tower like replica built by a telephonic Company, which reflect in the pool in red and white colour. Dalat was developed as a tourist palace after Alexander Yarsin, a Swiss scientist who tastes the adventure, trekked 1839 in this region and found French colonial administration of its value as highland resorts.
If we talk about its Geographic terms Central Highlands and its surrounding are covered by lovely mountains, One interesting fact you do not be surprised when someone called Dalat as the city of Forests as it carry lyrical names like Elephant's Head and Lady's Body. Dalat is a city in Vietnam with includes romance & mystery in it. Apart from heat and the beaches, it contains some mountains which carry the flavour of romance, Good food and adventure. The majority of visitors are Vietnamese, it seems to be preferred place to get married. This place is also called the honeymoon destination.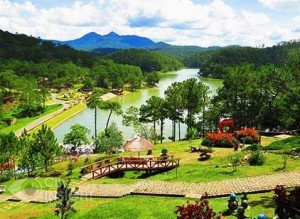 It's relatively simple to go to Xuan Huong lake and from there anyone can continue to visit many other attractive sites in the town by foot only as they are quite nearby to each other. In addition its charming nature and architecture, Dalat has the grand variety of culture life of Ethnic Minority people. There is plenty of diversion in the culture, many cultural festivals of local people were held in the Ethical Minority villages in outskirts of Dalat. The minority villages located nearby to Dalat, must need to visit to see the actual Vietnam. Traditional dresses are available on markets and can explore the tribal areas/villages by wearing that and extract their lifestyle..